!! Please select country!!
Created: 14 Sep 2007
Last Updated: 7 Oct 2007
To remove the glovebox on the ML, GL and R class vehicles, firstly remove the panel at the side of the dash to expose one of the screws - this is done by pulling it away from the dashboard. (Right Hand drive vehicle pictures)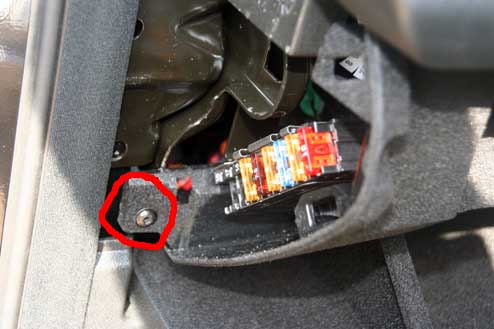 Then remove the 3 screws from underneath the glovebox.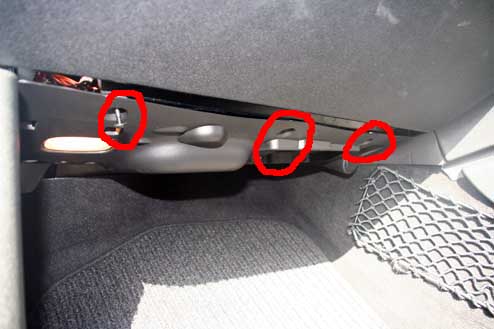 Then open the glovebox. If you have a AUX input in the glovebox, lever the front of it outward, with a screwdriver, it clips forward allowing the whole thing to go back through the hole it is located in.
Now remove the 3 screws from along the top of the glovebox. Note that one of the screws is like the screws from underneath, the other two are like the side screw.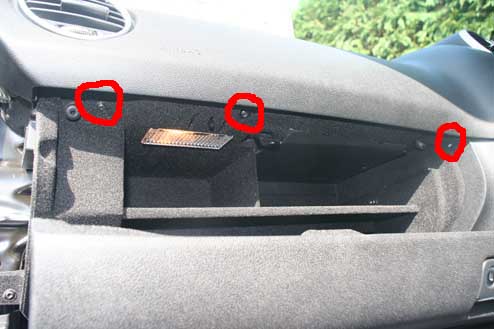 Now pull the glovebox down from the top edge and slide out.
You will have to disconnect the power lead for the light, it just slides out, and make sure the AUX lead drops out properly rather than damaging the cable.
The picture of the removed glovebox below shows a car without a CD changer, otherwise the black plastic panel on the right of it will not be there.

If you found this information useful, please support the site by making a donation via Paypal. Any amount at all helps me improve the information on the site.