!! Please select country!!
Created: 6 Mar 2007
Last Updated: 16 Sep 2008
Useful Mercedes Special Tools
Version 1.3 17th September 2008
There are a number of useful Mercedes special tools that considerably help (or are required) when dismantling interior of car to retrofit stuff - here is a list of them.
Mercedes Special Tools

| Part Number | Description |
| --- | --- |
| W126 589 0010 00 | Steering Wheel Airbag removal tool |
| W963 589 0105 00 | COMAND/Audio-30/W220 Cluster Removal Tools |
| W140 589 0233 00 | Pulling hooks (for removing cluster) 124/126/129/new cars |
| W110 589 0059 00 | Pulling hooks (for removing cluster) W107/W123 |
| W110 589 0359 00 | Hard Wedge (for unclipping panels etc) |
| W115 589 0359 00 | Long Wedge (for unclipping panels etc) |
| TBA | Connector dissasembly tool (to remove wires from connector plugs/sockets) |
It should be noted that some country's dealer outlets are not allowed to sell tools any more and they have to be ordered centrally and only by VAT registered companies. Some tools are available from Comand Online Ltd
Here is a useful link to the Mercedes USA special tools catalogue. Prefix most part numbers shown there with a W (or a Z for Star diagnosis and cables) to order them from a dealer.
If you look Here on that site you will find all the software service CD/DVD part numbers, although you should also look at COMAND-APS Faq and COMAND Faq to find out the current COMAND related software update CD part numbers.
Picture of the Long wedge and Pulling hooks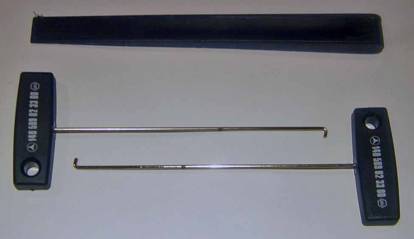 ------------------------------

If you found this information useful, please support the site by making a donation via Paypal. Any amount at all helps me improve the information on the site.