!! Please select country!!
Created: 23 Nov 2007
Last Updated: 21 Nov 2009
There are a number of different phone systems in Mercedes vehicles that can be used with Bluetooth.
This document aims to help you determine what products you need to be able to get bluetooth in your car, and where you can purchase the parts, and which can be installed by anyone, or by someone willing to dismantle the car.
This applies to European vehicles, not to US vehicles.
Is there a Mercedes Phone System Installed ?
FIrstly, we assume that your car has a Mercedes factory installed phone system where a mobile phone can be plugged in already in your car. If not, you will have to retrofit one. Kits to do this are avalable from Comand Online Webstore - Phone Retrofits - we do not cover how to retrofit those systems here, it is just a convenient place to get the kits.
Is it the fixed cradle Nokia 'Handy' (mobile) system ?
The first thing to do is to look at the existing phone cradle. If the cradle takes a Nokia 6150, 6210, or 6310i and has a curly cord then you have the fixed cradle Nokia phone system.
Here are some pictures of this type of cradle: -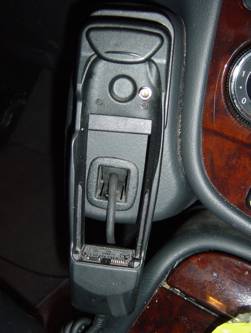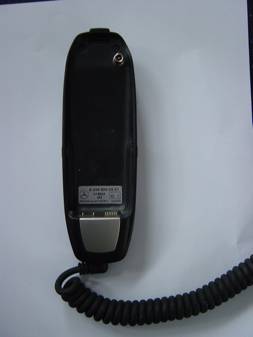 If you have this fixed cradle Nokia phone system then there is really only one sensible solution (apart from replacing lots of components in your car!) and that is to use a special non Mercedes device that is shaped like the Nokia phone, you plug it into the cradle, the car thinks it has a Nokia 6xxx phone, and it then bluetooths to your phone. This system will normally work great, although because of the variety of bluetooth phones not all phones will get their phonebooks automatically downloaded into the car. The system seems to work very well with Nokia phones, and can be purchased from Here. It is not available from Mercedes dealers.
Or is it the newer UHI system ?
Next look in your centre glovebox for the phone connector. It looks like this: -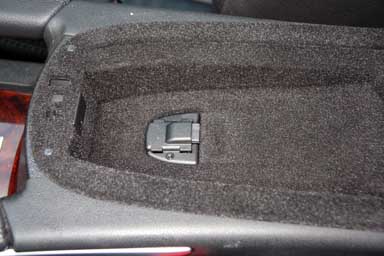 Or, if it has it's cover in place, like this: -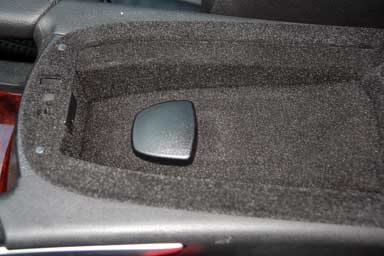 If you have that connector, you have the UHI system (MHI in North America) - this allows you to purchase a cradle for your specific phone, plug it in, and plug in your phone to the cradle. A list of available cradles can be found at Mercupgrades.com: UHI & MHI phone cradles.
There are two Mercedes bluetooth cradles and one alternative available, but to add complexity they are very different and don't work with all cars.
1) The HFP cradle is the cheapest version, UK retail price is £270.00 - it bluetooths to your telephone, tries to download the phone book, and the car's audio system then acts as a headset to your phone. Of course you can make and receive phone calls using the steering wheel controls, the instrument cluster display and the screen on the stereo / Sat-nav (Comand) system.
The phone's aerial is used to make the call, and of course the phone is not charging so making calls uses the battery up quicker than normal as both bluetooth and the phone itself are in use together.
It looks like this: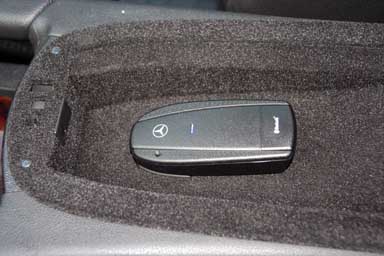 2) The SAP cradle
The SAP cradle is quite clever in that it is a phone in itself, and it 'borrows' the identity of your mobile phone using a bluetooth facility called Sim Access Profile (SAP). This means that the cradle ends up using the car's external antenna instead of the antenna on the telephone in your pocket. This gives better signal strength, and prevents the battery on the phone in your pocket running down to some extend.
The UK retail price is £360, so it is more expensive than the HFP cradle.
The latest version of the SAP cradle is Version 3 and looks like this:-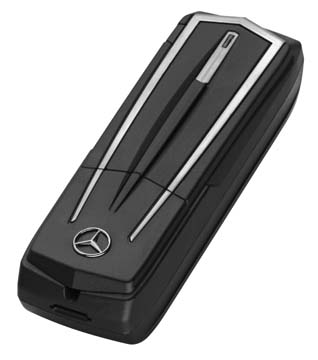 The last version of the SAP cradle (The "SAP V2") looks like this:-
This should not be confused with the early USA HFP adapter that looked identical.
You can also plug a SIM directly into this cradle, and it acts as a phone - this is useful in an emergency if your phone battery is dead.
You can also send SMS using this cradle, and if you have a Nokia smart phone (E/N series) with multiple contacts per phonebook entry, then you do not get only the default phone number available.
Because SAP is not that well supported by vendors, the list of supported phones is relativey smal but growingl. It seems that all the latest Nokia phones support SAP, and some of the newer Siemens phones. The current list of phones that Mercedes have tested can be found in my Mercupgrades.com: UHI & MHI phone cradles document, but they include: -
Nokia 6230, 6230i, 8800, 6280, E60, E70, E61
Nokia N80, E65, E50, N95, 6300, 8600 Luma
Vertu Constellation, Ascent
Siemens S65, SK65, S75, SL75, S68
In reality all modern Nokia phones work with the SAP V2.
SAP V3 cradles (in comparison to SAP V2) also work with Blackberry phones and possibly Windows Mobile, have a selection of ring tones and a USB port to charge your phone. Some WIndows mobile phones actually work with the SAP V2, but if you have a Blackberry or Windows Mobile phone i'd avoid the SAP V2.

3) The MB-2.
This is an alternative to the Mercedes HFP cradle and is considerably better. Its retail price in the UK is approximately £199, and has better sound quality and works with more phones. It is also software upgradable unlike the Mercedes HFP product. - For instance when the iPhone V2 software was released the Mercedes HFP did not transfer the phonebook for many months until Apple changed the software, whereas the MB-2 was working within few days.
Does your car have the older D2B audio system or the newer MOST system ?
There are two types of audio technology in the later Mercedes Benz vehicles. D2B and MOST. Its important to know, because the HFP cradle does not work in D2B cars.
Here is a table to help you work this question out:
| | | |
| --- | --- | --- |
| Vehicle / Age | D2B ? | MOST ? |
| Current A, B, E, CLS, ML, GL, R Class | | MOST |
| Old A, W210-E, ML, W202 C, W208 CLK | D2B | |
| W203 C class, W209 CLK class, after the facelift in 2004 | | MOST |
| W203 C class, W209 CLK class before the mid 04 facelift | D2B | |
| W215/W220 (last CL/S) class with navigation disk in boot (ie cars built after Sept 2003) | | MOST |
| W215/W220 with navigation disk in head unit | D2B | |
| R230 SL (nav disk in head unit) | D2B | |
| R230 SL after July 04 (nav disk in boot) | | MOST |
| G wagen before April 07 | D2B | |
| G wagen after April 07 (with nav disk covering all of Europe) | | MOST |
| Vito / Viano with navigation disk covering all of Europe | | MOST |
| Vito / Viano with navigation CD just covering 1 country | D2B | |
Which cradle for my car ?
The Bluetooth HFP cradle will NOT work in cars with the D2B technology, so you have to use the SAP cradle. Your choice is then the SAP cradle, or the MBU-2000 which can be purchased from Here.

If your car has infra-red reflecting glass, then your only real option is the Mercedes SAP adapter as it uses the car's antenna. The infra-red reflecting glass contains metal and considerably reduces the phone signal available inside the car, so if calls are made using the phone (using bluetooth HFP) the quality is often too low.
If your car is a new W204 C class, then the stereo already supports the function of the Bluetooth HFP cradle. If you also purchased the phone-pre wiring, then you must either install a fixed cradle or the Bluetooth SAP cradle.
So, in summary: -
If you have a car with a fixed cradle, your only option is the ViseeO MBU-1000 adapter.
If your car has D2B with the exchangeable cradle system, you need either the Mercedes Bluetooth SAP adapter, or an MB-2, depending whether your phone supports Bluetooth SAP protocol and if you have the optional infra-red reflecting glass.
If your car has MOST you can use either the Mercedes HFP or SAP cradles or the MB-2, depending on the phone you have and the functionality you want.
Where can I purchased a new, warrantied, cradle ?
The fixed cradle Nokia bluetooth adapter: Comand Online - MBU-1000 adapter.
The MB-2: Comand Online - MB-2 adapter.
Bluetooth SAP cradle: Any Mercedes Benz dealer, or Comand Online - SAP V3 cradle.
Bluetooth HFP cradle: Any Mercedes Benz dealer, or Comand Online - HFP cradle.

If you found this information useful, please support the site by making a donation via Paypal. Any amount at all helps me improve the information on the site.