!! Please select country!!
Created: 3 Jul 2009
Most of the wiring in the W211 E class and W219 CLS class runs down the left hand side of the car. To access the wiring ducts you need to remove the door sills and the left hand rear seat bolster.
Remove the inner door (grey plastic) sills from front and rear left hand side doors, this is done by pulling up the rubber trim, and pulling up the plastic sill. They must be pulled up from the rear end as there is a clip at the front end that hooks under the next piece of trim which will break off if you pull it up rather than sliding that end out. The picture below shows the front sill with the rubber removed, the one below that shows the rear with the plastic inner sill removed.
Front door sill: -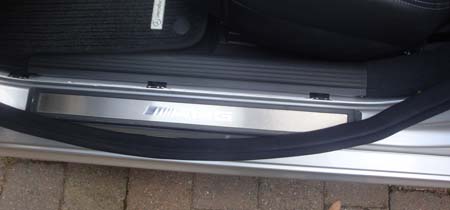 Now remove the rear seat left hand bolster
Fold up the rear seat, or in the case of cars without through loading, remove the rear seat base cusion (you can see the clips you need to push in at the front corner of the cushion whilst pulling the front end of the seat up).
Once you have removed the seat base or folded it up, you can see a round clip.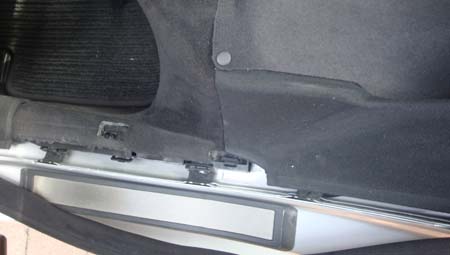 Remove the top section of it to allow you to fold up the carpet where you can see a 10mm plastic nut and the rest of the clip, both of which you need to remove.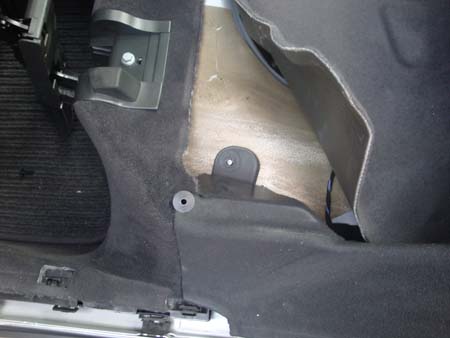 Once you have removed those you can pull up the side bolster of the seat to reveal the wiring path.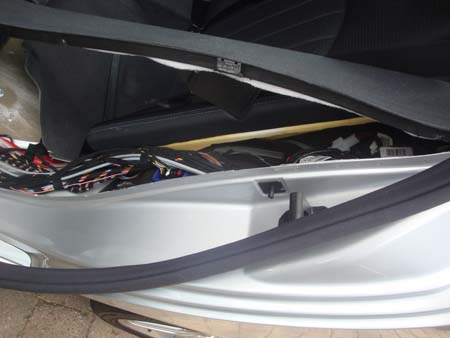 If you found this information useful, please support the site by making a donation via Paypal. Any amount at all helps me improve the information on the site.